Georgia Ranks 19th on 'Hottest Real Estate Markets of 2022' List
Tuesday, March 14th, 2023
After two years of stiff competition and fast-rising prices, the residential housing market in the U.S. began cooling quickly over the second half of 2022 and beginning of 2023.
After home prices rose approximately 40% in a two-year span, many buyers have found themselves unable to afford property. Inflation in other sectors and declines in the stock market have made it more difficult to build up the savings needed to buy a home. On top of this, rising interest rates have increased costs to borrow, which has reduced the budget for many buyers—especially first-time buyers without existing equity or large down payments. These factors have slowed the market considerably.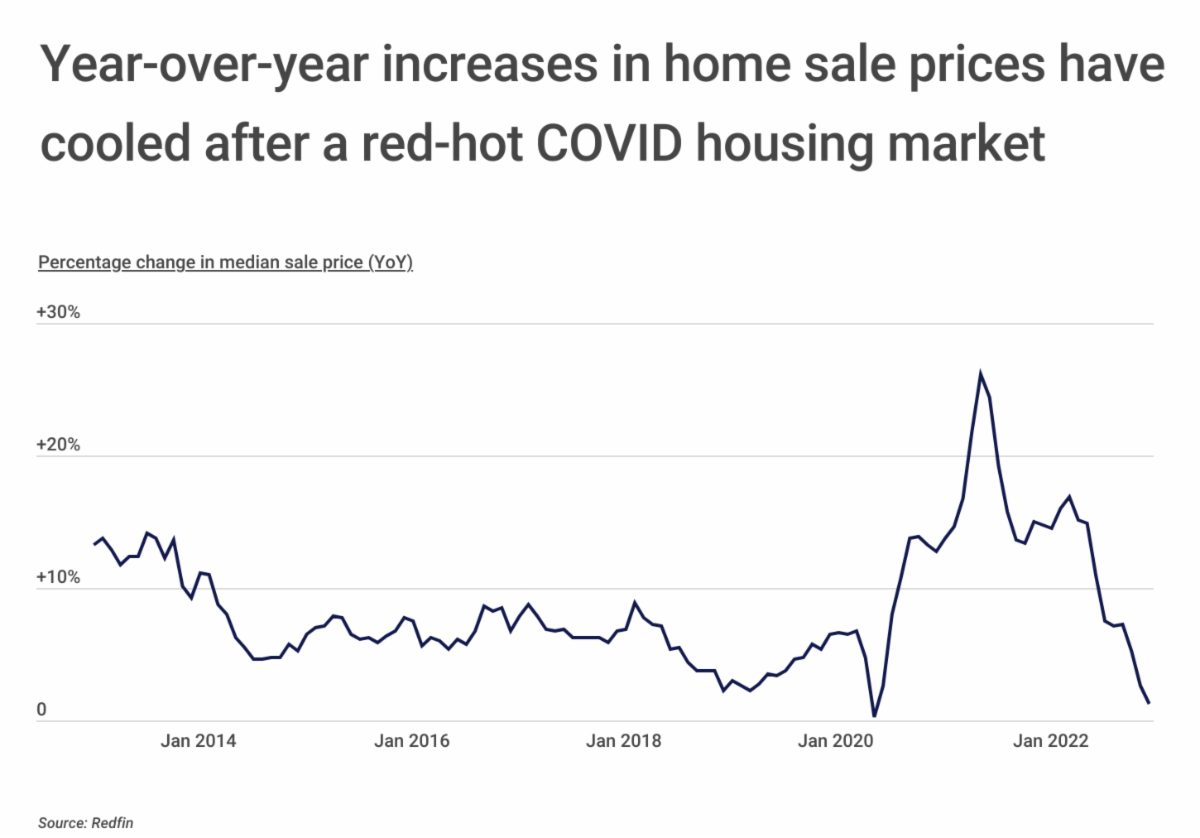 One of the most obvious effects has been on home sale prices. Price growth exploded during the COVID-19 pandemic while interest rates were low, households savings and investment returns were high, and more people were spending time at home. According to data from Redfin, the year-over-year rate of growth reached a peak of 26.1% in May 2021, and the market continued to see double-digit percentage growth until the middle of 2022. But by the end of 2022, home prices were just 1.3% higher than they were the year before.
The volume of home sales has also decelerated dramatically in recent months. Stay-at-home orders in the early months of the COVID-19 pandemic brought the market to a halt, with the number of home sales declining by more than a third from the spring of 2019 to the spring of 2020. But as the market picked up, the year-over-year change in the number of homes being sold reached a record high of 49.1% in May 2021. But these figures have quickly fallen off as well. At the end of 2022, the volume of home sales was 36.7% lower than the year prior.
Despite the cooling in the real estate market, some geographies continued to see relatively high levels of activity in 2022. Prices have been leveling out in many parts of the U.S., but certain states have continued to have higher numbers of homes selling above list price. Most of the states where homes have continued to sell above their initial asking price are found in the Northeast, led by Massachusetts at 59.4%. One factor that is likely contributing to increasing prices in these states is the difficulty of adding housing supply. States like Massachusetts, New Jersey, and California have a number of densely populated cities where it is harder to add stock, or regulatory regimes that make it difficult to add new homes. In the central and southern parts of the U.S., fewer homes are continuing to sell above their asking price. At the local level as well, certain markets have proven to be resilient against the overall decline in housing demand.
To identify locations where the housing market stayed hot in 2022, Construction Coverage developed a composite score using key indicators from Redfin about different local markets. The composite is based on the following factors:
One-year change in median sale price (higher values ranked higher)

Share of homes that sold above asking price (higher values ranked higher)

Median number of days on the market (lower values ranked higher)

Average sale-to-list percentage (higher values ranked higher)

Share of listings with price drops (lower values ranked higher)
Here is a summary of the data for Georgia:
Composite score: 53.0

Median sale price: $356,637

1-year change in median sale price: +4.2%

Share of homes that sold above asking: 41.3%

Median number of days on the market: 24.1

Average sale-to-list percentage: 100.0%

Share of listings with price drops: 24.1%
For reference, here are the statistics for the entire United States:
Composite score: N/A

Median sale price: $409,056

1-year change in median sale price: +1.3%

Share of homes that sold above asking: 44.2%

Median number of days on the market: 25.8

Average sale-to-list percentage: 100.9%

Share of listings with price drops: 14.3%
For more information, a detailed methodology, and complete results, you can find the original report on Construction Coverage's website: https://constructioncoverage.com/research/the-hottest-real-estate-markets-of-2022